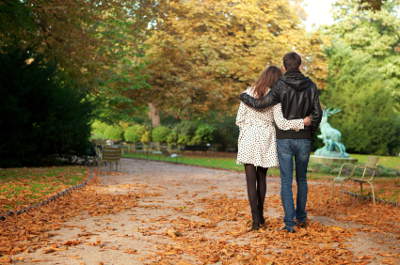 Astrology and Seduction
Astrology doesn't have any magic techniques to make someone fall in love with you, however it can provide a lot of information to understand their personality and help you direct your effort where it will be most effective:
1 - Understand your partner
The first key to making your partner fall in love with you is to understand them. For example:
What turns them on and what turns them off
What they want and needs from a partner and relationship (this varies a lot!)
What traits they finds most attractive in a partner
2 - Understand yourself
While you can't and shouldn't change who you are, you can present the aspects of yourself which your partner finds most attractive. The second key then is to know yourself. Your strengths and weaknesses, from your partners viewpoint.
Which parts of your personality they're attracted to - so you can show them off
Which parts of your personality turn them off - so you can downplay them
Should you be coy or forward, talkative, reserved or intellectual?
Does your partner prefer playful? Brazen? Sophisticated? Nurturing?
How can you tell if your partner likes you or not?
Without this information many people are their own worst enemy, assuming that their partner sees things the same way they themselves do.
3 - Pick your moment
The third key is to catch your partner at the right time. Choosing a time when you're feeling particularly bold, sexy and charismatic, while they are receptive to the idea of a relationship can give you a big advantage.
How does astrology fit into this?
Astrology can provide information and answers in all the above areas, however there is no "one size fits all" solution based just on your sun signs. To unlock the real power of astrology we need to create and interpret the unique natal charts for you and your partner, and take all the other planet placements into account.
To do this, over the past 21 years I've developed a unique relationship reading, designed to quickly and affordably provide all the relevant astrological information available to answer the above questions (and a lot of additional ones).
A seduction plan for your unique situation
The reading is designed to give you the information and confidence to devise the best seduction strategy for your unique situation. It allows you to see the strong and weak areas of your interaction, so you can use them to your advantage, while avoiding any tricks or unscrupulous methods which will ultimately just backfire.
The main challenge with seduction is having a very limited window of opportunity in which to sell yourself. This reading lets you know the best things to put in that window by showing you exactly which of your personality traits your partner finds most attractive. Beyond that you can be yourself without needing to follow any cheesy or fake A-B-C approach.
Does it always work?
Not always, no. There can be environmental factors which add a substantial challenge. For example, if someone recently had a very bad relationship experience it can make any seduction much harder. The package will still give you a big advantage however, perhaps ready for when the timing is better.
It's also possible that you're really not very compatible with your intended partner. This is more common with Online Relationships where you have never met in person. It's very easy for someone to paint a very misleading picture of who they really are online. In that situation the reading will show which parts of your relationship are likely to have problems. You still get all the standard help and tools, the warning is just to avoid later surprises.
To order a reading for your relationship
This reading is available exclusively from this website. Delivery is by email within 24 hours. It's designed to be easily printed in case you prefer a hard copy. The complete 100 page reading is $29.99 and includes free email questions.
To order a reading for your relationship please complete the form below. I include a free revision for birth times and locations, so don't worry if you need to guess or estimate those for now.
---
Frequently asked questions
How long does it take to get my reading?
All readings are delivered by email. I promise delivery within 24 hours. The average time is under 6 hours if ordered during US business hours.
Why isn't this free?
Free astrology reports are a bait and switch sales trick. The free report is typically 1-2 pages of generic astrology information advertising paid astrology reports. Those paid reports are typically around 1/10th the size of my readings and typically cost $15-40 each. They're not astrology readings and they're not free.
Do you offer instant delivery?
No. Only automated systems can produce reports instantly. Those aren't as accurate as professional astrology tools due to various corners which must be cut to automate the process. They also can't answer questions or tailor advice to your unique situation.
Do you need precise birth times or locations?
Ideally they should be as accurate as possible, but I can work with the best information you have. I include a free revision in case you find more precise birth times or locations later.
Do you offer a guarantee?
Yes. A very high percentage of my business comes from repeat customers and personal referrals because my goal is to over-deliver in every area. All my work has a 60 day full money back guarantee if you're not totally satisfied.
About me
My name's David Moore and I'm a professional relationship astrologer. Since 1993 I've prepared over 90,000 relationship readings and published over 3,000 articles on relationship astrology. My clients have included psychologists, relationship counselors and several of the worlds largest dating services.
---
No hidden costs or additional reports to buy
It's common for online astrology reports to be just a few pages long and include an "upgrade" offer for additional reports. This up-selling process can cost hundreds of dollars for a complete reading.
I never charge for additional reports. I offer a complete relationship reading which includes all the astrological information for your relationship. There's no need to compare features or buy multiple reports from me, as I never hold information back to sell you additional reports later. Due to this complete coverage my readings have a wide variety of uses...
Other uses of this reading:
It's exciting and new, but that little voice is asking if this will be another dead end relationship? You don't need to wait months or years to find out. My structured analysis can show you today whether he or she is your soulmate.
Astrology has no magic tricks to make someone fall in love with you. However, by understanding someone, how they view things, what their goals and motivations are it's very easy to make yourself more attractive to them by highlighting what they want to see, early and often.
I describe and score hidden factors such as sexual chemistry alongside visible ones like friendship and communication, so you can see the whole picture of your relationship and judge its potential. Should you meet? Would things be different in person? You can find out today.
Need to know how to turn your differences into strengths? How to avoid arguments before they start? How to deal with a passive aggressive partner? It's never too late to begin again. The right information can radically change the dynamics of a relationship, how you view and react to someone, and how they view and react to you.
You met someone, and for the first time in years you feel alive! An unbiased and anonymous analysis can often do what your friends can't... help determine what's right for you.
Each reading includes my personal email address if you have questions or want additional help. I have over 20 years experience solving real problems for real couples. Information and understanding is the first step. The unique format and features of my readings help solve real problems for real people every day.
Life can be infinitely more enjoyable and satisfying with the right partner. The single biggest factor in obtaining that happiness is not wasting years of your life on dead end relationships, and not settling for second best. True love does exist. Astrology isn't required to find it, however it's the most powerful tool I've found to predict it far in advance.
---
Back to the start of the questionnaire