Ending a relationship
The decision of whether to end a relationship can be one of the biggest and most stressful which most people face.
If you're asking yourself the question, then it's likely the answer is yes - as life's too short not to be happy, but between family pressure, financial pressure, property, lifestyle, comfort zone - the list of reasons to procrastinate can be huge.
Astrology can sometimes help with the decision, amongst other things giving an objective third-party analysis of how compatible you are, and a black and white list of your strengths and weaknesses together. If you would like to explore this further please see the astrology compatibility reports page.
Recommended ebooks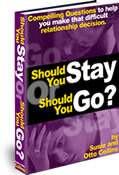 Should you stay or should you go
Should you end a relationship? Practical advice and considerations for making this tough life decision. By relationship coaches and authors Susie and Otto Collins.
Recommended websites
If you would recommend any websites dedicated to helping address the questions of when or how to end a relationship please let me know!


Return to main navigation menus at the top of this page