Online dating
This page is a collection of resources which help with the unique challenges and issues faced by online dating and relationships. If you know of other resources not listed please feel free to send me a note of them and I'll get them added.
Online dating - the way of the future, or the junk food of love?
In recent years there's been a huge growth in online dating services such as e-harmony and match.com. This has been followed by an equally rapid growth in social networking sites such as MySpace and Twitter. Both offer a fast and convenient way to meet people, without many of the limitations of traditional methods.
These have led to an amazing growth in the percentage of relationships which start online. Somewhere around 45% of the population will now have an online relationship at some point, and 60% of those turn into physical relationships.
For many however, online dating still has a bad reputation. Only 25% of people would recommend it to a friend, and this is most likely due to the potential challenges it involves.
Advantages
It's easier to be bold and flirtatious online, there's less fear of embarassment or being rejected. You can get to know someones personality before becoming focused on physical appearance. It's convenient, you dont need to get dressed up to use Facebook. You can be whoever you want to be. The stakes are low when flirting online, and this can make otherwise shy people remarkably bold and forward.
Disadvantages
There's less obligation to be honest about things. Concepts such as emotional affairs blur the lines between right and wrong when it comes to being intimate with people - and in many wayss it's made cheating a lot more common.
It's not uncommon for people to use doctored or even fake pictures of themselves. Often people you meet on social networking sites are friends of people you already know, and this can lead to a false sense of security - as your friend probably doesn't really know them at all. Finally, it's easy to imagine someone as being perfect when you only interact remotely. There might be no chemistry if you met face to face.
Ultimately it's a long distance relationship, requiring a lot more trust and patience than more traditional relationships.
Recommended ebooks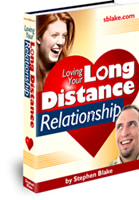 Loving your long distance relationship
A three book bundle for long distance couples to help overcome the specific long term challenges they face.
It includes the emotional issues faced during the relationship, and real life examples of couples who have made it work - and what their secrets are. One particularly good section highlighted how the experience is very different for women versus men.



Recommended online relationship websites
If you would recommend any websites dedicated to helping face the issues and challenges of online dating and relationships please let me know!


Return to main navigation menus at the top of this page