Sex and improving your sex life
This page is a collection of resources focused on keeping your sex life fun and exciting. If you know of other resources not listed please feel free to send me a note of them and I'll get them added.
Recommended ebooks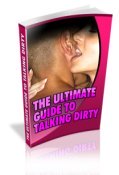 The ultimate guide to talking dirty
This is one of those subjects where it can be less embarassing if you're following a course than suggesting raunchy ideas yourself. A fun and cheap way to add some spice to your lovelife.
It includes a five step training program (lol!) to build confidence and technique, and includes plenty of examples guaranteed to make your partner think about you when you're not around! Note, this book is written for women readers, though guys will get lots of good ideas too.
---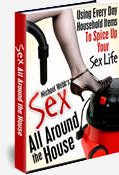 Sex All Around The House
This book lists a thousand sexual ideas for kitchens, closets, garages, home offices etc, together with creative uses for 150 household objects! (did you know there are 38 vibrating objects in the typical home? Me either!)
A fun read, guaranteed to include some ideas you wouldn't normally think of, and a great way to spice up any relationship without spending money on toys!
Sex and astrology signs
Each of my compatibility articles (available from the compatibility pages on the left menu) include a section on sex for the corresponding relationship.
The men and women pages (also available from the left menu) list the general sexual traits associated with sun signs.
Recommended sex related websites
Better sex for women
Focusing on information regarding self care, female sexuality, sexual health and sex therapy. Hosted by my good friend Dr Mia Glanville this site has articles on everything from how to deep throat a guy to how to have better cybersex.
Lingerie party adult toys
A tasteful website directed towards women to educate them about their sexuality and how to improve their sex lives and intimate relationships via the use of toys and gadgets.
The womans survival guide to sexual health
This site covers everything from sexually transmitted infections and birth control to lingerie and orgasms.